Music, art and fashion always intersect in ways that fascinate me. One artist whose personal style seems to really reflect her music is M.I.A. For those of us with immigrant parents/family (my father moved here from Nigeria, and most of his family immigrated to London), or with family from places such as India, Africa, or other developing regions, we might be somewhat familiar with elements of M.I.A.'s style.
The effects of post-colonial globalization are reflected in the hand-me-down style that M.I.A. pairs with cutting edge trends and fabrics. I say hand-me-down rather than vintage, because in a lot of immigrant populations and developing countries, clothing isn't seen as "vintage" as much as re-used. She's also heavily influenced by the 1980s hip-hop/electro scene. On top of that, many of her colorful patterns worn in tunics and loose-fitting pants are traditional African and Indian prints.
So, I thought it would be fun to try and recreate the M.I.A. "look," based loosely on her latest video:
First, you're going to need to take a deep breath and squeeze into a pair of latex leggings. Make sure you use plenty of talcum powder! This pair from Kova & T retails at $113.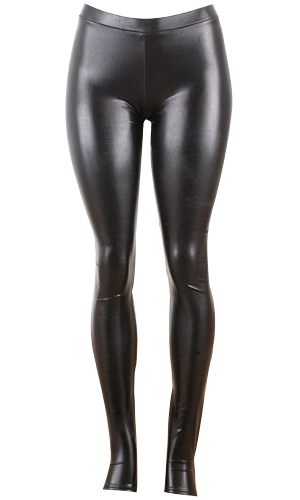 On top of the leggings, go the DIY route and make a top yourself! Find a crazy, fun print, like this yellow and green African print: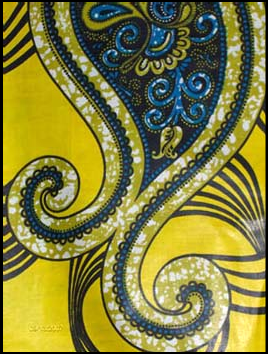 Or, find a fabric that works for you. Then, break out your sewing machine, buy some beers for that vegan friend who also makes all of his/her own clothes, and entertain him/her while he/she slaves away on a simple tunic for you to rock at the next Girl Talk or Justice show. If your friend doesn't have any patterns, take an old t-shirt that fits you well and take it apart to see how it's put together. Not only will you get an awesome and unique top, you'll spend some quality time with your friend without having to picket outside of KFC.*
Now, if you live in any state that's not Hawaii, you'll need a layer to keep you warm while you walk to a cab, wait in line outside of the bar/club, or hit up multiple house parties in your neighborhood that weekend. Keeping in mind M.I.A.'s cutting edge (read: from outer space) fashion aesthetic, try this Crushed What Up jacket in silver from Rojas, retailing at $155: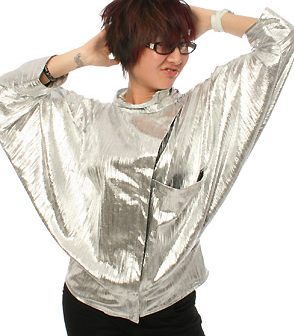 I love the bat-wing silhouette and I am CONFIDENT that it will become a favorite in your closet (It would also look fly with just about any vividbraille tee you buy this season), not to mention a conversation-starter among any group of people.
For shoes, stick with a colorful sneaker, like these leopard-print canvas Pumas for $45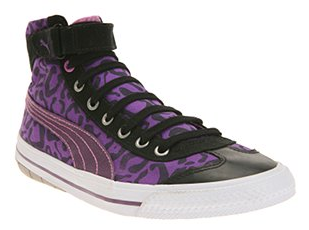 -Tunde Olaniran
*I am a vegetarian so I have nothing but love for my animal rights ppl!